What Are the Key Traits for Entrepreneurial Success?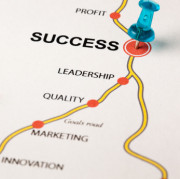 I don't think there is a question that people ask more. At a talk before several hundred would-be entrepreneurs this past weekend, I was asked it again. So I thought this would be a good place to provide the answer I give time and time again. It's so simple, yet so powerful. While nothing can absolutely ensure success, there are two key traits that dramatically increase the odds for success for an entrepreneur:
An unbridled passion for a business concept that fills a specific market need and that you can deliver a product or service that meets that need.
Near-religious zeal for managing your cash, with cash generation as your primary focus at all times.
Only two, but the most powerful of any you can bring to your endeavor. And the ones that will most contribute to your ultimate success. If you can achieve them, you can succeed!
Master Yoda knows these things. His job it is. May success be with you!
Oct 20, 2009
by