The Market Learning about Your Start-up Can Be Like Someone Trying to Find You in Times Square on New Year's Eve!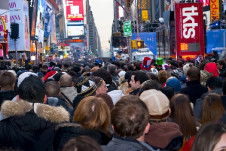 Picture yourself in Times Square on New Year's Eve and wanting a group of friends to find you. There are a million people all around you. You need to stand out, so you can be easily spotted. What would you do? Wear a red hat? Then you've narrowed yourself down to the group of, perhaps, ten thousand wearing a red hat. Maybe hold up a sign? Maybe you're down to a thousand of you with red hats and signs. You get the picture. Never in history has there been so much market "noise," with people bombarded with messages and information.
On a comparable note, for the entrepreneur, how does the market learn about your start-up? How does your message get through the noise? How does it stand out in the crowd?
That's your challenge and, unfortunately, there's no easy or right answer.
But, the best place to start is to tighten your focus. In the Times Square metaphor that means telling folks to look for you on the west side of Broadway, and more specifically, on the corner of West 44th and Broadway. Now, you're among maybe a thousand folks, but remember you're wearing your red hat and carrying a sign. Now, it's you and ten other folks (with red hats and signs). Much easier task for your friends.
And for your startup, a much easier task for folks to learn about it if you continue to tighten your focus to the target market that is most in need of your small business' product or service to solve a problem or meet a need they have. With limited resources, you can't do a "Times Square" marketing campaign. You need a "44th and Broadway, Red Hat and Sign" strategy instead. It makes every element of your plan easier to implement because it has a specific target. Whether that be using social media or more traditional marketing, or both.
Get focused, let your message get through!
Master Yoda knows these things. His job it is. May success be with you!
Jun 4, 2012
by