A Scalable Business Model Isn't Just an Excel Spreadsheet!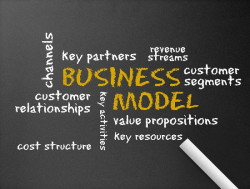 Talking to a start-up company recently, I was once again reminded of how passion and belief in a business concept can blind an entrepreneur into thinking they have a viable business.They described a small test that they had run that had proven successful, in that a small group of customers had signed up and used the service. That was the essence of their endeavor. They felt that they had now proven the concept and were ready to scale their business and seek funding for a roll-out.
Since they had a very low "ticket price," I asked how they would get to a scalable business - driving the kind of volume they needed to grow the business and generate profits. They pointed me to their extensive financial model (about 45 sheets, no lie). This showed a business model that, at its essence, to make sales volume happen, was dependent on an inexpensive part-time labor force, which is good, but a lot of it, which is bad. The sheer naiveté of the difficulty involved in not only recruiting but training and managing such a work force and to be able to do it in the time frame they had laid out, was palpable.
But their Excel spreadsheet financial model said it would work...thus it would! Unfortunately, and this sounds like one of those Geico radio commercials, financial models don't know from strategies and tactics! And I haven't seen one get new customers!
Too many entrepreneurs fall into this trap.
Passing through "proof of concept," is but one hurdle to long-term success.What it proves is that some "dogs will eat the dog food."What it doesn't prove is that a large volume of dogs will, enabling the business to reach "critical mass" and as they do, the cost of delivering the dog food will come down with that volume, generating profit.That is a rudimentary description of a scalable business model and the real basis for long-term entrepreneurial success.
But there are some important questions that need be answered to get to that scalable business model.And these questions form the basis for the strategies and tactics that drive that scalable business model.Carrying forward our "dog" metaphor:
Do we care what kind of dogs eat our dog food, and how will we reach them to let them know about it?
Do we know how many dogs we have to put our dog food in front of for each one that finally eats it? How long does that take? Where will those dogs come from?
How much does it cost to get one dog to eat our dog food? Two? A hundred? A thousand? Can we get more efficient either over time or with volume?How do we sell in volume?
How is the cost of goods of our dog food affected by volume, i.e., can we get efficiencies or economies of scale, both in manufacturing cost and delivery time? Do we have multiple sources of supply? Is there a relevant make or buy decision?
These are but a few.And while you can model them, the answers won't come out of an Excel spreadsheet.That spreadsheet might corroborate, provide basis for and monitor your strategies and tactics, but it won't develop them. That's where the "heavy lifting" begins to make a "proof of concept" a "scalable business model" workable strategies and plans for growth.
No matter how sophisticated your financial modeling, it does NOT replace the development and execution of the strategies and tactics necessary to get you to scaling your business and to long-term success. Modeling is but one part.
The Entrepreneur's Yoda knows these things. He's been there. May success be with you!
Sep 24, 2012
by