Note to Self: If I'm Not Getting Paid, I Really Don't Have a Business!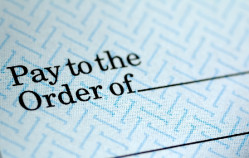 So, Mr. Entrepreneur, when's the last time you took a paycheck? Working more hours than you ever have in your life; under more pressure, both from the business and what it is doing to your personal life...and you're not getting paid? Is this what you signed up for?Wasn't this entrepreneur stuff supposed to be your path to riches?
Okay, you can all stop nodding your heads now. Admittedly, maybe a little extreme, but it's way more common than you might imagine.If you think you're the only one operating that way, think again.It's one of the big problems in early stage companies. When to start paying yourself, anything at all, let alone a livable wage. Yet, if you think about it, it's not until you do pay yourself on a consistent and rational (meaning somewhere above minimum wage and but certainly something less than a Fortune 500 CEO) basis, that you actually have a real business. Too many entrepreneurs end up not only investing their life savings but continuing to also invest "sweat equity" while paying employees, suppliers and landlords.
Of course, there will always be times, when cash is short whether because that big customer is late paying their bill, or you've just invested in a new marketing campaign, when you might have to forego your check for a pay period or two. That's part of being an owner. My point is that you don't really have a solid business unless and until you are paying yourself on a consistent basis.Worse, the stress created by personal cash flow problems will, ultimately, filter back into your business in the form of distraction reducing your efficiency, taking your eye off the ball.
Here are some guidelines to help you understand when to begin paying yourself, how much and what to do if you can't:
It's a Business You're Working For, Not a Piggy Bank You Can Raid
Establish this philosophy from the "get-go," and your cash flow, both business and personal will thank you in the future. While you may own it, too many entrepreneurs treat their business checkbook, like just another checkbook in the house.Keep them separate.
"
Break-even" Has to Include You
If not, you're just fooling yourself.You are what makes the business go. If you aren't getting paid, you aren't paying for the engine!
New Expenses or Employees Only If and When You're Paying Yourself
Committing to a lease, whether for equipment or space or hiring an employee will only make your business "nut" that much bigger each month, making it even harder to pay yourself. Beyond the basics for what you need to operate your business, no new expenses unless or until you are paying yourself.
Salary - Balance What You Must Have vs. What You Can Pay
Covering your personal "nut" is often difficult, early on. Most entrepreneurs have come from the comfort (and the salary) of corporate America and have become used to that standard of living. That won't change, quickly or easily, so you have to figure out, at a minimum, how much you can cover through savings and how much you can afford to take out of the business. But you must take something out of the business, weekly, monthly or quarterly.
If You're Short, Always Pay Yourself Something
Even if it means you delay a supplier payment or pay in installments.That the business is paying you, even something small, psychologically, helps you justify the hours and the effort.
Put Something Aside for "Sam"
One final point. In the early going, things are less formal, and if you're an S corporation with no employees, you're probably not doing the formal payroll thing."Sam" (as in Uncle, my nickname for the IRS) still needs to get paid. Make sure you are doing more than accruing that money, but actually putting it aside.
Later as your business is growing you will have really hard-working employees and you'll want to be sure you take care of them. Start that kind of philosophy right out of the chute. Take care of your earliest and hardest working employee - you, by paying yourself. You don't really have a business until you do.
"The Entrepreneur's Yoda" knows these things. He's been there. May success be with you!
Jan 26, 2013
by