Inspirational Words for Entrepreneurs That Should be Read Every Day!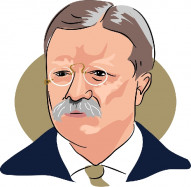 Most entrepreneurs have favorite phrases, sayings or words from which they take their inspiration.What words have inspired you? Today, Master Yoda, brings in wisdom from an outside source - Teddy Roosevelt, famed Rough Rider, 26th President of the United States and a man whose words have inspired countless people from all walks of life. For Yoda, as an entrepreneur, these words were my guide, my inspiration and still occupy a valuable place on the wall above my desk, so I can see them and be inspired by them, every day. Hopefully, for many of you they will also occupy a special place, because they embody the spirit of the entrepreneur:
"It is not the critic who counts, not the man who points out how the strong man stumbled or where the doer of deeds could have done them better.
"The credit belongs to the man who is actually in the arena; whose face is marred by dust and sweat and blood; who strives valiantly; who errs and comes short again and again; who knows the great enthusiasms, the great devotions, and spends himself in a worthy cause; who, at best, knows in the end the triumph of high achievement; and who, at worst, if he fails, at least fails while daring greatly, so that his place shall never be with those cold and timid souls who know neither victory nor defeat."
"The Entrepreneur's Yoda" knows these things. He's been there. May success be with you!
Jan 23, 2013
by