"All Capital is Not Created Equal" - An Investor Should Bring More Than Capital to Your Business.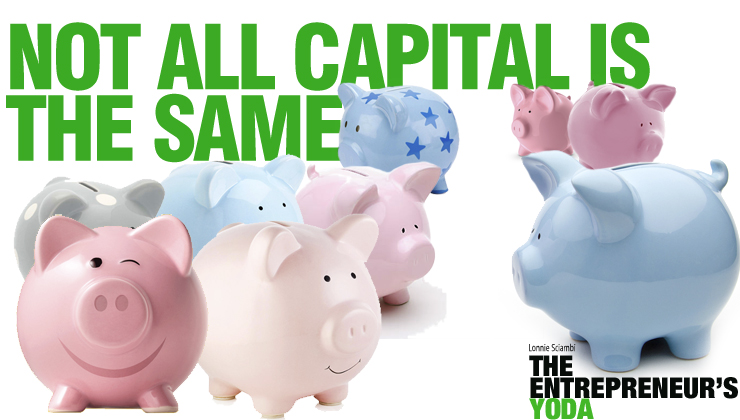 An outside investment in your business is way more than just about capital. Like it or not, you are bringing a partner into your business. You are giving up equity or becoming liable for a debt that has long-term implications. That means you are creating a relationship for the foreseeable future.
How to bring "value-added"
capital into your business
No matter the amount of money, what it will be used for and who invests it, you need to be comfortable with your new "partner" and know that a "value-add" is being brought to that capital.
It could be a unique perspective or critical guidance in your industry sector. It could be relationships or influence with the major potential customers. It could be useful expertise/experience in areas where your team is lacking. That is, often, as significant as the capital itself. Simply put, all investment capital is not created equal!
For most entrepreneurs, when they decide to raise outside capital, they're, usually, just "babes in the woods." For many, it could be their first foray into raising money, so they are somewhat naïve,
knowing neither what to expect nor what to look for
. Professional investors, on the other hand, do this for a living, every day, so they have a distinct advantage. They also have unique investing and operating styles.
After investment, some are very active. Others, not so much. For some, being active is part of their DNA. For others, they become active only in times of crisis. But in the main, since they will be "partners" with you, you should plan to seek and use as much advice and influence as they can provide.
Since I've been on both sides of the table, many times, let me provide you some guidance to help you get the maximum out of the experience; and to help you bring "value-added" capital into your business. Here are five key factors and a series of associated questions, to consider:
Due diligence goes both ways.
The investor will do extensive due diligence on your business. And while they are investing their capital, you are also bringing them in as a partner. Think about how you would screen a new partner or co-founder who might come into your business.
Why wouldn't you do the same thing with your prospective investor
?
One of the best ways to do this is to get them to give you permission to talk to a couple of recent companies where they've made investments (especially companies who are similar in size or a similar industry sector) and some, where they have been involved for more than a few years. Determine how those relationships have played out, especially the longer-term ones.
How's the chemistry?
Think marriage, because you will be together until you're not.
While you're bringing in an investor, you're also bringing in a partner
. No matter how much value they add, if the chemistry between your team and key personalities with the investor group, that you will deal, with isn't good, it can neutralize the "value-add."
And like a marriage, if you don't like the "warts" before you get married, they won't look better afterward. No matter how much money or how good the terms, if there is no added value (or potentially negative value) in the relationship, it will hurt the company, not help it. Finally, it comes down to mutual trust and respect. If those two factors are not there…bad deal!
How can they help your business?
There will always be lots of promises, but it comes down to what they have and who they know and
how they have delivered
. How much experience/knowledge do they have in your industry sector? How current is it? Do they have relationships with or can they open doors to key customers? What areas of functional expertise do you lack that they can shore up or help you with, both short- and long-term? Can they help you create critical strategies and tactics or be a good experienced sounding board for those? How have they used that influence and expertise with other investments they've made?
How do they operate?
Do they understand and have a feeling for your business from an operating standpoint, or are the most merely "bean counters?" How involved will they be in the day-to-day business? Will they have one or more board seats and how do they view the importance of that (it has to be more than just a title, but taking real fiduciary responsibility)?
How often will you have to report – e.g., will there will be periodic review meetings or calls and how will they be structured, monitored and reported on? From your discussions with their previous investments, how have these worked out? Are they officious or active? In short, do they bring real value besides their money?
How about follow-on investment?
Follow-on investment should be an important for consideration for any investor decision
. Do you have a feeling for what their comfort zone is for any one investment? That will be important for consideration of any future investment. Have they, typically, done much follow-on investment? If so, have they discussed this with you as to how that might work, and what the criteria would be for follow-on investment?
Their "value-add" here is that for future investment, you know what their expectations are, what they are looking for and it saves you so much time and management "wear and tear." But, on the other hand, they can strike a harder deal because they also know those things.
Raising outside capital is never easy. But, you need to know that your investor will be your new "partner, " and you need to know that there is a "value-add" with that capital. Whether industry sector perspective or influence; possible relationships or influence with essential potential customers or functional expertise/experience in areas where your team is lacking. That is, often, as significant as the capital itself.
"The Entrepreneur's Yoda" knows these things. He's been there. May success be with you!
If you've attempted to gain outside investment, what was your experience with all capital not being created equal? Please share your thoughts in your comments. It can help another entrepreneur or small business owner.
If you like this post, by all means, share it with your networks and colleagues.
---
Related blogs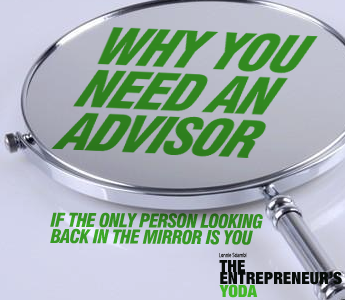 ---
Jun 5, 2017
by