An Entrepreneur's First Hire Can be the Foundation of Future Success!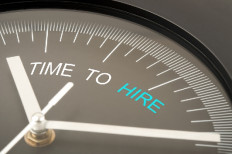 Hiring the first employees in a start-up is an epochal event in an entrepreneur's and a business' life cycle. Like getting your first customer and revenue made you a real business, having employees now makes you a real company. Merriam-Webster defines company as "an association of persons for carrying on a commercial or industrial enterprise." XYZ, LLC ain't just the name on your website or your business card, anymore. It's a living breathing organism!
Once an entrepreneur hires employees, the business and you are never the same. You may have a culture in mind, but now someone beside you will live in it. Every decision you make now affects more than just you. And getting the right person is not going to be any "day at the beach." It will take time to do it right, so don't just jump in. Plus, you don't want make an early mistake and then have to do it all over again a few months later, when it doesn't work out.
No matter what you do, have a good game plan so you can bring someone in that not only adds present value, but you can build on for the future. Here's some guidance that should help you make this a positive for you, the new hire, the business and your mutual future:
Define the Job Requirements
Even if it's just a couple of sentences, know what you want from the role for which you are hiring. What are the proposed job functions and responsibilities? What do you want them to bring to the table in terms experience, background, etc., both absolutely, and "nice to have."
Don't Just Hire Function
Typically, early hires are for specific functions that either you don't have an in-depth skill for (like sales or finance) or can't effectively address with all your other responsibilities, keeping the business operating. But it should be more than that. Early hires should bring not just a particular needed talent or skill, but other experience that you also might not have.Like a sales person who understands or has had some role in marketing. Or an accounting person who has operational experience, maybe as office manager or supervisor in another function or business.
Look for a Self-Starter
If you hire someone who needs constant management, you lose twice. They're not effective because they are always in need of direction, and you are not effective because you always have to provide it. Instead look for prospective hires who have a high motivation factor driving them. Folks who were president of their class, had a lemonade stand when they were kids.Maybe even someone who has been a former entrepreneur (or longs to be a future one).
Chemistry and Values over Pedigree
I can't say enough about this. A first hire is critical because, early on, it will just be you and that person. Somebody you can relate to, has similar views on life and similar interests, is way more important than what degree they have from which institution or which Fortune 500 companies they've worked for. And treat the process a little like courtship. If the prospective hire has some apparent chemistry "warts," they won't get better once you're married (they're hired).
Small Company Experience, Please
Wherever possible, they should have already worked at small company, a start-up preferably, so they further understand how people in a small company have to, often, do things outside their job description, often wearing many hats.
Get Help and Another Viewpoint
If it's just you (no partners), hopefully, you have advisors. Have them sit in on some, if not all, of the interviews. Or bring another peer entrepreneur to help. No matter who, get another checkpoint, another opinion.
Once on Board, Help Them Understand What's Important
No matter what role they are functioning in, help the new employee understand what the critical success factors for your business are; those things you watch and track. Perhaps, at some point, have their compensation even tied to some of them. You will be building the foundation for how you communicate with, manage and compensate employees in the future.
(And a few words on the whole interview process. Few of us have been trained to know how to do it well. Fewer still are naturals at it. One of the best interviewing tools I have ever seen (and used) for entrepreneurs is called "Motivation-Based Interviewing" and it's an internet based-course offered by a company called HireAuthority run by a friend of mine, Carol Quinn.You'd be wise to take a look -
www.hireauthority.com
. It could be the best investment you ever make!)
Hiring the first employees is a critical step in the growth cycle of a business and often seems daunting to an entrepreneur. Hopefully, if you follow the guidance I've laid out for you, it will not only be a positive experience but one you will look back on as the real beginning of your company.
The Entrepreneur's Yoda knows these things. He's been there. May success be with you!
Jan 19, 2013
by